Friday, April 30, 2010
Update on the Naacal Tablets Discovery (1)
I received an email from Klaus Dona in Vienna that relates:
This morning I called my friend in Germany and he informed me that he leaves Germany next Wednesday for India again and he will give me some photos and a complete report about the Naacal plates after his return in a few weeks. As soon as I get the details, I shall send them to you directly.
Please visit the My-Mu.com
forum topic on the Naacal tablets.
I look forward to any new (or old) information that can provide further clues and assist in the verification of this discovery when the evidence becomes available in a few weeks.
Saturday, April 24, 2010
Accusations Addressed
Recently, in response to the video announcement of the Rediscovery of the Naacal Tablets,
someone remarked:
There are a number of inconsistencies in James Churchward's story about his transcription and translation of the Nacaal tablets that shall have to be addressed in any attempt to validate his story. There is also no small problem that he was actually known to forge documents and produce wholly imaginary drawings of nonexistent archaeological finds.
and in response to a request for examples:
I can name you several instances. The most blatant favrication was his allegation that he had found and translated a document claiming that Moses was the child of Hatshepsut. No such document exists and the idea is most extremely unlikely to have been historically accurate. James Churchward illustrated artifacts supposedly discussed by "Paul Schleimann" and in particular an owl-headed vase and a bird-headed sphynx "From King Chronos of Atlantis". Paul Schlemann was not the person he claimed to be and Heinrich Schleimann never had a grandson named paul, as family documents attest. It had all been a hoax-but what is worse on Churchward's part is that he actually made up the illustrations for the non-existant artifacts. And among other things he created a fictiotious "Chaldean document of 5000 Bc discussing aircraft design" when there were no "Chaldean writings" at that time, nor yet any outside references to the presumed document.
I wish to address these points individually.
1. 'The most blatant fabrication' was not done by James Churchward in translating a tablet that says Moses was the child of Hatshepsut. In the modern day printing of 'The Books of the Golden Age', a volume from 1927 that was to remain unpublished, on page 195 is an illustration of this tablet, as shown below: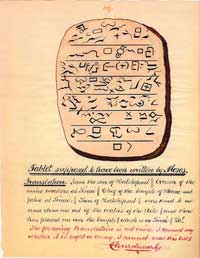 Books of the Golden Age page 195 (click for larger version)
Shown clearly at the bottom of this page is the following text: "
The forgoing translation is not mine I cannot say whether it is right or wrong. I cannot read this label. JChurchward
"
I know of no other public discussion or description of James translating this tablet. The drawing in the 'Books of the Golden Age' is certainly done by him, but was it originated by him, making the whole matter up to gain more publicity? The answer to this question might be better answered after viewing the following page from one of his scrapbooks: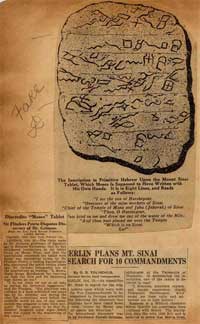 Scrapbook 1 Page 12 (click for larger version)
This newspaper clipping obviously has the word 'Fake' and James initials written and pointing to the tablet and translation.
The article from the lower-left corner may not be easy to read, so a larger version is available
here
.
I hope I covered all the bases on this one. If there is other evidence that I have inadvertently neglected to include, please keep me honest and pass it along.
---
James Churchward did not fabricate illustrations from Paul Schleimann's 1912 article, "How I Found the Lost Atlantis, The Source of All Civilization". James had a copy of the article in his scrapbook (without the pictures) and he included illustrations of the objects on page 251 of the 1926 "Lost Continent of Mu Motherland of Man."
The original article has been scanned by the Sacred Text Archive and can be seen
here
. The page with the scans of the illustrations is located
here
.
Here are side-by-side comparisons of the drawings:


Owlhead Vase from page 251
of Lost Continent of Mu Motherland of Man

Owlhead Vase from Paul Schleimann's 1912 article,
How I Found the Lost Atlantis, The Source of All Civilization



Bird-headed sphinx from page 251
of Lost Continent of Mu Motherland of Man

Bird-headed sphinx from Paul Schleimann's 1912 article,
How I Found the Lost Atlantis, The Source of All Civilization
I hope that this clears up any confusion concerning the alleged fabrication of these illustrations.
---
Lastly, the only Chaldean document that James mentioned (that I was aware of) is the so-called Lhasa Record mentioned in the article, "
How I Found the Lost Atlantis, The Source of All Civilization
." It most definitely does not discuss aircraft design, but is included as one of James' proofs:

When the star Bal fell on the place where is now only sea and sky the Seven Cities with their Golden Gates and Transparent Temples quivered and shook like the leaves of a tree in storm. And behold a flood of fire and smoke arose from the palaces. Agony and cries of the multitude filled the air. They sought refuge in their temples and citadels. And the wise Mu, the hieratic of Ra-Mu, arose and said to them: 'Did not I predict all this?' And the women and the men in their precious stones and shining garments lamented: 'Mu, save us.' And Mu replied: 'You shall die together with your slaves and your riches and from your ashes will arise new nations. If they forget they are superior, not because of what they put on, but of what they put out, the same lot will befall them!' Flame and smoke choked the words of Mu. The land and its inhabitants were torn to pieces and swallowed by the depths in a few months.

I did pass along the posting for comments and received the following:

The documents alleged to have been found in Mesopotamia are called to be the Sifr'ala and the Hakalatha, the latter said to be 7000 years old. The translator is said to be one Y. N. Iban A'haron. There is no record of either Iban A'haron or these wporks outside of Churchward and Cedric Leonard mentions the fact in his book Quest for Atlantis.

I have been unable to find reference to these documents in James' books - if someone else has different information, please send it along.
---
These accusations that
"he was actually known to forge documents and produce wholly imaginary drawings of nonexistent archaeological finds"
are hollow in that the examples offered do not apply.
I stand ready to examine and discuss any other examples that may be put forward, but, using these examples, James is blameless.
Have a great day,
Jack Churchward
Friday, April 09, 2010
James Churchward's Western India Discovery?
A January 2010 article entitled, "
Is This a Wall of Dwarka?
", archaeologists have discovered a 14km long wall in the sea on the western coast of India near Ratnagiri, Maharashtra State.
Amazingly, James Churchward, in his 1932 book, "Children of Mu" (page 182) writes the following:
SUBMERGED LANDS WEST COAST OF INDIA - In the Indian Ocean, adjoining the West Coast of India, there exists a large area of submerged lands with structures showing thereon. Like the remains of the South Sea Islands, these structures are prehistoric. These submerged lands commence at about 21 degrees north latitude, or just below the mouth of the river Indus, and extend south to about the equator. These submerged lands are apparently of an elongated oval shape. The Lacadive and Maldive groups of low-lying islands are within the boundaries of this oval. Although I have several times passed quite close to them, I have never been on any of them, so cannot say whether they are parts of the sunken land still above water, or whether they are the subsequent work of coral insects.
Page 181 provides the following map: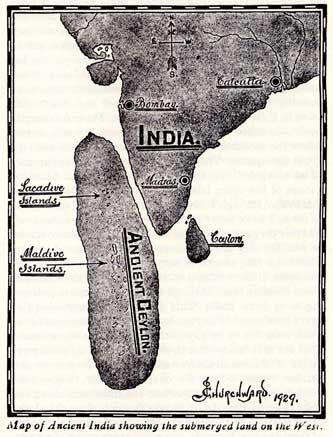 The following maps indicate the location of Ratnagiri and it's relationship with the maps provided by James Churchward.
---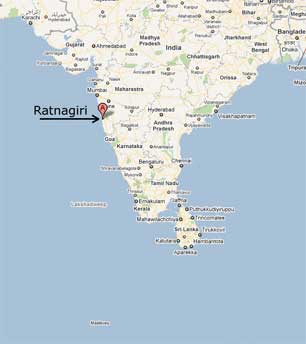 ---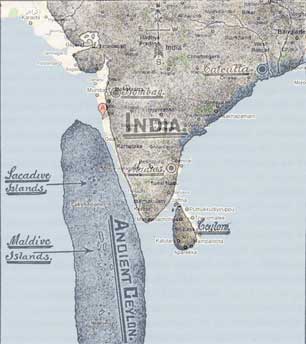 ---
As the article states:

Dr BS Chandrashekar, a remote sensing geologist who has also studied this wall using satellite imagery, said,
"This is a fascinating wall which extends under the sea. I have studied it through remote sensing and my
preliminary observation is that it could lead to a fort. But who constructed it or what was its purpose can be
known only after a detailed archaeological examination."

We'll be looking forward to the results of the examination.
---
A close examination of the legend portion of James' map reveals that the E & W are swapped as shown below: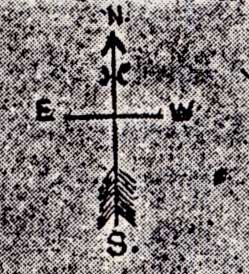 One wonders what this means, it it a deliberate act to encode secret, hidden data or just a mistake? We'll keep an eye out to see if other illustrations have similar 'mistakes' and if anyone has any ideas, please send them along.

---
---